Borscht is a bit like Pavlova. Its origins are controversial and fought over like many great wars. My research tells me it's Ukrainian but the people of Poland may disagree. My grandparents were Ukrainian so I'm going to share with you my version of borscht.
Its colour is magical.  Deep red, clear and glossy.  Where it mixes with the sour cream it goes a delicious pink colour.  Its flavours are earthy, sweet, sour and deep.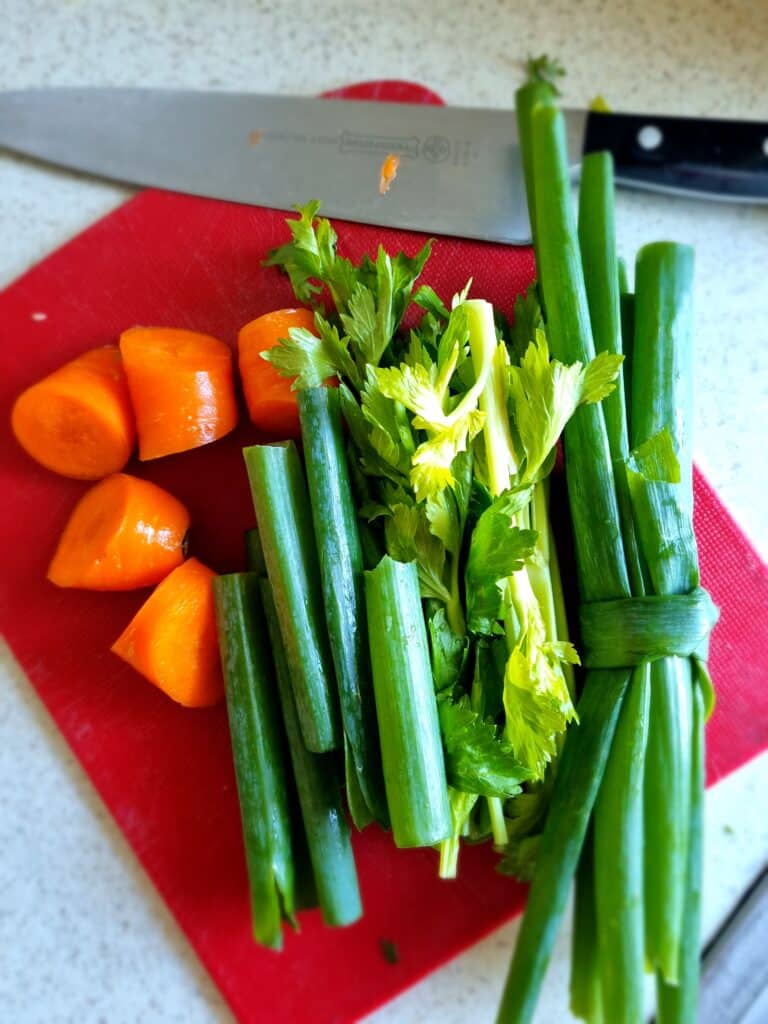 We ate borscht in winter and it was served hot.  There are summer versions which are served cold and there are even versions which are green.
The basis of any borscht is a good stock and this step is entirely up to you.  My mother made stock from beef bones and this winter I've been using chicken to make my stock.  If you're vegetarian or vegan, you are welcome to use a vegetable stock.  I save the vegetable bits and pieces that you don't eat and add them to the stock.  This includes shallot ends, broccoli stalks, celery tops, carrot ends etc.
Ingredients (to serve 4)
1.5 litres stock
1 tbsp olive oil
1 small onion, finely chopped
1 large carrot, grated
2 sticks celery, finely chopped
1 large beetroot, grated
1 large potato, small cubes
2 tbsp tomato paste
1 tsp salt
Pinch of sugar
1 tbsp white wine vinegar
Ground black pepper to taste
Fresh chopped dill – to serve
Sour cream or thick greek yoghurt – to serve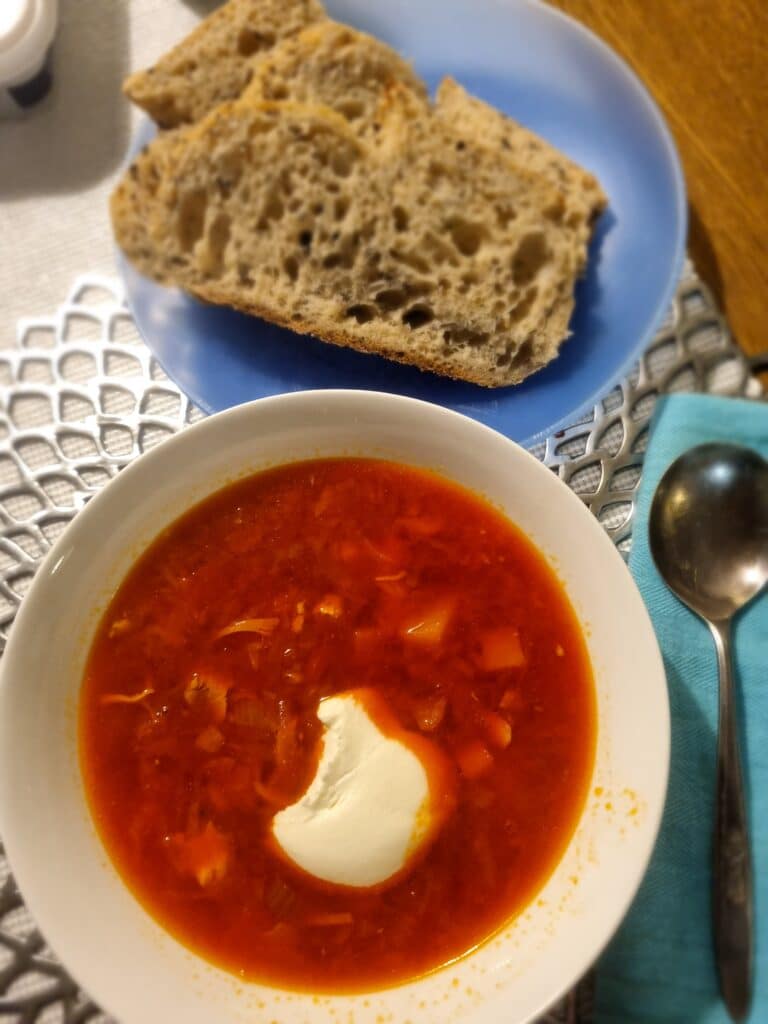 Pour your stock into a large saucepan and get it simmering. Once simmering, add the shredded cabbage and keep it simmering slow for 20 minutes. During this time you can get the other vegetables chopped or grated. Heat a medium sized frypan and add the oil.  When hot, add the onion but turn the heat down so it doesn't colour.  Fry until translucent. Add the tomato paste and cook for 1 minute.
Then add the carrot, beetroot and celery and let them cook slowly until soft.  If it seems dry you can add a splash of water.  Turn off the heat. Add the sautéed vegetables to the simmering pot of stock and cabbage.  Add the diced potato and allow the soup to cook until the potato is soft. Then add the sugar, salt, pepper and vinegar.  Mix well, let it sit for 10 minutes then taste. It should be a little bit sweet and a little bit sour. Adjust as required. Serve in a large bowl with a generous spoon of sour cream or yoghurt and garnish generously with chopped dill.
NOTE If you have some meat from making the stock, add it at the same time as potato